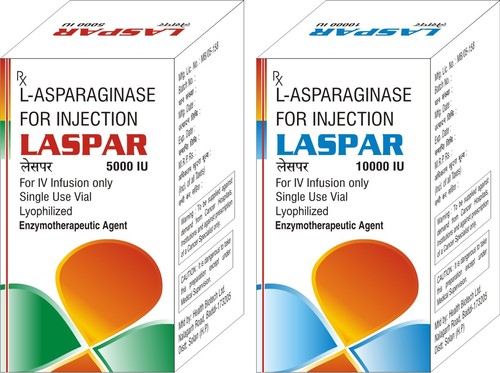 Product Description
We are a renowned organization, engrossed in providing high grade L-Asparaginase Injection to our clients. Our ingenious professionals formulate this injection by utilizing advanced methodology and top grade chemical composition. It is extensively used in health care centers and hospitals to be injected into patient's vein or muscle for treating acute lymphoblastic leukemia. Additionally, the provided L-Asparaginase Injection is available in proper packaging options at affordable prices.

Key points:

Enhanced shelf life
Immediate results

High effectiveness
Safe to use
Category: Antineoplastic
Composition- : Each vial contains: L-Asparaginase 5000IU/10000 IU
The rationale behind asparaginase is that it takes advantage of the fact that ALL leukemic cells are unable to synthesize the non-essential amino acid asparagine, whereas normal cells are able to make their own asparagine; thus leukemic cells require high amount of asparagine. These leukemic cells depend on circulating asparagine. Asparaginase, however, catalyzes the conversion of L-asparagine to aspartic acid and ammonia. This deprives the leukemic cell of circulating asparagine.


Specification-
Asparaginase is an enzyme that catalyzes the hydrolysis of asparagine to aspartic acid. It is used for the treatment of acute lymphoblastic leukemia (ALL)[1] and is also used in some mast cell tumor protocols. [2] Unlike other chemotherapy agents, it can be given as an intramuscular, subcutaneous, or intravenous injection without fear of tissue irritation.
Indication :
Acute leukaemia, Malignant lymphoma.
Dosage :-
50-200 k.u/kg body wt. daily or every alternate day by I.V infusion.
Contraindications:-
Hypersensitivity or previous serious allergic reaction (such as generalized urticaria, bronchospasm, laryngeal edema, hypotension) to drug.
Pancreatitis or history of pancreatitis.
Previous hemorrhagic events related to L-asparaginase therapy
Precautions:-
renal or hepatic disease, CNS disorders.
concurrent use of hepatotoxic agents, anticoagulants, nonsteroidal anti-inflammatory drugs (NSAIDs)
pregnant or breastfeeding patients.
Drug interaction:
Vincristine and prednisolone increases the toxicity, diminishes or abolishes the effect of methotrexate on malignant cells.
Adverse Effect-:
The main side effect is an allergic or hypersensitivity reaction; anaphylaxis is a possibility.[1] Asparaginase has also been associated with pancreatitis. Additionally, it can also be associated with a coagulopathy as it decreases protein synthesis, including synthesis of coagulation factors (eg progressive isolated decrease of fibrinogen) and anticoagulant factor (generally antithrombin III; sometimes protein C & S as well), leading to bleeding or thrombotic events such as stroke.
Storage:
Store between +2°C and +8°C.
Purity:-
100 %
Contact Us
S.C.O. 162-164, Top Floor, Indian Airlines Towers, Sector 34-A, Chandigarh, Chandigarh, 160022, India
Phone :+918068213646