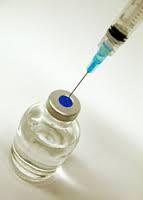 Product Description
Having both clients' and quality centric approach, we are engrossed in providing high grade Epirubicin Injection. By a crew of ingenious professionals, this injection is formulated using top grade chemical composition and advanced methodology. The offered injection is highly effective against lung, ovary, breast and stomach cancer. It disrupts the growth and reproduction of cancer cells. We put forward the provided Epirubicin Injection in proper airtight packaging within promised time frame.
Key points:
Enhanced shelf life
Free from impurities
Quick response against disease
Hygienically processed
Category: Anti-neoplastic
Each vial contains:-
Epirubicin - 10mg , 50mg and 100mg
Chromatographic Purity: NLT 99.5%

It is a new anthracycline antibiotic with antiblastic activity. The mechanism of action of it is related to its ability to bind to DNA. Cell culture studies have shown rapid cell penetration, localization in the nucleus and inhibition of nucleic acid synthesis and mitosis.
Composition :

Each lyophilized Vial contains:
Epirubicin Hydrochloride – 10mg, 50mg, 100mg

Indication :

It is used in the Adjuvant Treatment of Breast Cancer

Specification: :

Epirubicin Hydrochloride Injection is supplied as a sterile, clear, red solution and is available in polypropylene vials containing 50 and 200 mg of Epirubicin Hydrochloride as a preservative-free, ready-to-use solution. pH Between 4.0 to 5.5

Dosage :-

Administer Epirubicin Injection by intravenous infusion. Give Epirubicin in repeated 3- to 4-week cycles. The total dose of Epirubicin may be given on Day 1 of each cycle or divided equally and given on Days 1 and 8 of each cycle.
Patients administered the 120-mg/m² regimen of Epirubicin should receive prophylactic antibiotic therapy. Administering a lower starting dose (75-90 mg/m²) for heavily pretreated patients, patients with pre-existing bone marrow depression, or in the presence of neoplastic bone marrow infiltration

Contra Indications:-

Patients should not be treated with Epirubicin Injection if they have any of the following conditions:Severe myocardial insufficiency, recent myocardial infarction or severe arrhythmias

Special Precautions:-

Administer Epirubicin Injection only under the supervision of qualified physicians experienced in the use of cytotoxic therapy. Before beginning treatment with Epirubicin, patients should recover from acute toxicities (such as Stomatitis, neutropenia, thrombocytopenia, and generalized infections) of prior cytotoxic treatment. Also, precede initial treatment with Epirubicin by a careful baseline assessment of blood counts; serum levels of total Bilirubin, AST, and Creatinine; and cardiac function as measured by left ventricular ejection function (LVEF). Carefully monitor patients during treatment for possible clinical complications due to Myelosuppression.

Pharmacological Action:

Epirubicin forms a complex with DNA by intercalation of its planar rings between nucleotide base pairs, with consequent inhibition of nucleic acid (DNA and RNA) and protein synthesis.Such intercalation triggers DNA cleavage by topoisomerase II, resulting in cytocidal activity. Epirubicin also inhibits DNA helicase activity, preventing the enzymatic separation of double-stranded DNA and interfering with replication and transcription

Purity :

Not less than 99%.
Contact Us
S.C.O. 162-164, Top Floor, Indian Airlines Towers, Sector 34-A, Chandigarh, Chandigarh, 160022, India
Phone :+918068213646